American Made Carports
All steel, American made carports on sale today from EZCarports!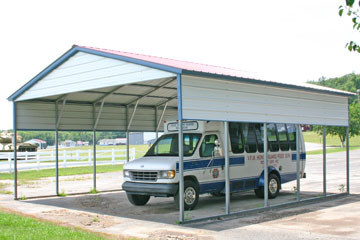 EZCarports.com offers the highest quality carports on the market, and every one of those carports is made right here in America. Forged from 100% recyclable steel, these American made carports are high strength 12 or 14-gauge steel and are integrated with Flo-Coat for superior strength and protection from the elements. Our carports come with a 35 year warranty to ensure that your investment is protected for years to come. You can take a look at our carport locations page to find a carport in your area!
Our all steel carports are not only incredibly sturdy, but they are so easy to build we offer you the option of intalling it yourself to save 5% on your order. You can build your carport on just about any surface, including dirt, grass, concrete, and asphalt with ease, and if you ever decide to move you can take your carport with you because disassembly is quick and simple. If you need some help finding inspiration for your carport, check out our standard carport page .
Our carports are built to last so they can offer you unmatched protection for your car, boat, or RV. You will have peace of mind knowing that your American made workshop or storage unit is safe from the weather. Keep your possessions safe by purchasing a carport today.
Why Choose EZCarport.com?
Friendly Customer Service 9am-9pm
Buy Online, Hassle Free
Best price Guarantee
Free Delivery
Free Installation
EZCarports.com American made carports are sold straight from the factory to ensure that you receive the highest savings possible. Our carports also come with free installation and the option to build it yourself for a 5% savings.
Try out our online configurator to build your ideal American made carport and get a free instant quote, or shop by using our list of popular carport designs. We look forward to providing you with a hassle free shopping experience. Start shopping for your new carport by designing your carport online at EZCarports.com or calling us toll-free at 877-204-8816 to speak with a customer service representative.
If you have any questions let our FAQ page answer them quickly.
Check out our American made

carport image gallery

to learn about our 3 different roof styles.