Car port from EZCarports
Delivery and installation included!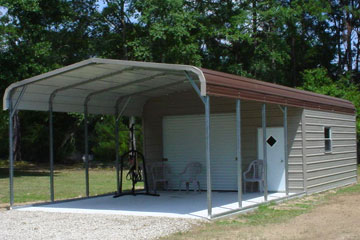 Each car port from EZCarports.com is so highly customizable they can fit your needs no matter what they may be, and if you're having a hard time coming up with a design, take advantage of our standard carports page and get creative. From car protector to storage shed, our all steel car ports are designed to keep everything inside completely safe. Each one is made from recyclable 12 or 14-gauge steel and integrated with Flo-Coat to provide even more protection and longevity.
We make each steel car port incredibly sturdy and versatile and also portable and easy to assemble. You can choose to build it yourself and receive a 5% discount, plus they can be built on almost any kind of surface, including dirt, grass, concrete, and asphalt with ease. If you decide to move you can quickly and easily disassemble it and take it with you wherever you go. You can also check our carport location page to see carports available in your area.
We sell our products factory-direct to the customer to save you time and money. They also come with a 35 year warranty and free installation so you can have some peace of mind that your purchase will last for decades.
Use our online configurator to build and customize your own all steel car port to suit all your needs, or choose from our selection of popular designs. Our main goal is to make your shopping experience as enjoyable as possible by offering you the highest quality with an easy to use website and ordering system, plus excellent customer service.
Why Choose EZCarports.com?
Friendly Customer Service 9am-9pm
Buy Online, Hassle Free
Best price Guarantee
Free Delivery
Free Installation
All steel car ports provide protection for cars, RV's, boats, ATV's, and they can even be used as workshops and storage units separate or attached to your home. Our products offer unequaled protection, durability, and versatility, and are competitively priced. Start protecting your possessions today by designing your own online or calling us toll-free at 877-204-8816 to speak to a customer service representative. If you have any questions, consult our FAQ page on our website for quick answers.
Check out our car port

image gallery

to learn about our 3 different roof styles!