Carport Covers from EZCarports

Easy online tools give you the power to fight the weather and protect your property with carport covers!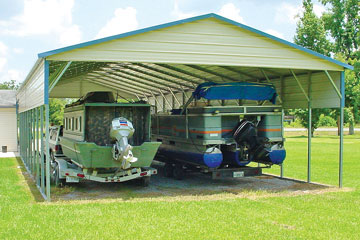 Carport covers protect your automobiles, boats, RVs, machinery, and any other items from the unpredictable. It's better to be safe than sorry knowing our custom carport covers can withstand rain, hail, snow, wind, debris, and damaging sunlight. Our carport covers can be designed to fit your specific needs with the click of a mouse. Prevent the weather from destroying what is important to you by covering your belongings under a carport cover made of recyclable, 12 or 14-gauge steel, the strongest and most durable on the market today. To find carports in your area, check out our carports location page .
Completely customize your carport cover using our simple online configurator . You are the designer and are allowed to choose the number of windows, doors, and garage doors, as well as the color of the steel itself. You can choose the dimensions that fit your needs, regardless of how large or small. If you can design it, we can build it. Choosing where to put your custom-made carport cover is just as simple as designing it since they can be placed just about anywhere including dirt, grass, concrete, and asphalt. If you're having trouble desgning your carport, visit our standard carports page and get some inspiration.
With over 35 years of experience in the industry, we know what people want and what they deserve; nothing but the absolute best in quality and customer service, and we are here to give you just that! Our priority lies in serving you. Your priority should be in protecting what you have worked so hard to earn. Since we can't control the weather or prevent the harsh conditions that arise from it, we vow to help you fight it by assisting you in creating your own steel carport cover. Don't let your belongings get damaged by the weather. As a team, we can prevent that from happening by protecting your valuables with a new carport cover!
Why Choose EZCarports.com?
Friendly Customer Service 9am-9pm
Buy Online, Hassle Free
Best price Guarantee
Free Delivery
Free Installation
If you have any questions or need any assistance, please contact us Toll Free at 855-296-0037 or consult our FAQ page for quick response.
Check out our carport covers

Carport Image Gallery

to learn about our 3 different roof syles.