DIY Metal Carports from EZCarports
Delivery is free if you order online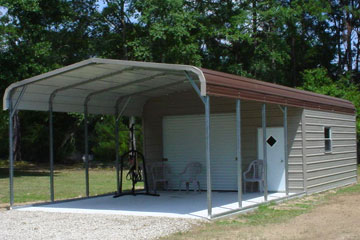 Welcome to EZCarports.com we've got a huge selection of top quality DIY metal carports for you to build and design. Our carports are made from recyclable, 12 or 14-gauge steel integrated with Flo-Coat for increased strength and longevity, they're simple to build and will last a lifetime. Before you start configuring yours online, take a look at our standard carports to see some of our most popular models.
All of the DIY metal carports we manufacture can be quickly and easily put together by you with a 5% discount. Your carport will be delivered to your house with just about everything you'll need to get started on your new project. Our DIY metal carports are so easy to put together, the only tool you'll need is a ratchet to put the whole thing together. Brand new DIY metal carports are the perfect project for the do it yourselfer out there who wants to take advantage of the huge savings we offer. Looking for a carport by location? Check out our carport locations to see carports in your area.
Our DIY metal carports are easy to build on any surface – dirt, grass, concrete, and asphalt. You can build your metal carport on any surface with ease and be confident that your carport will stand up to whatever you or Mother Nature can throw at it. Our carports come with a 35 year warranty on the whole building so your investment is covered for 35 years.
Why Choose EZCarports.com?
Friendly Customer Service 9am-9pm
Buy Online, Hassle Free
Best price Guarantee
Free Delivery
Free Installation
Try out our carport configurator to create your ideal carport and get instant pricing, it's almost as simple as putting one together yourself. Once you've created the carport that fits your needs you can order online or call one of our customer service representatives toll-free at 877-204-8816 . For quick answers to your questions, our online FAQ page is a great resource.
Check out our DIY Metal Carports

image gallery

to learn about our 3 different roof options!