Do It Yourself Carport Kits from EZCarports
Delivery and installation included if you buy online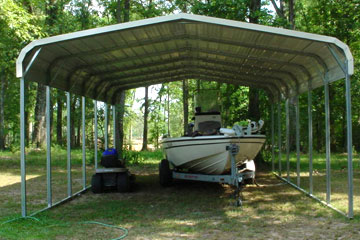 EZCarports.com has a huge selection of do it yourself carport kits. Our easy to build carport kits are made from high quality 100% recyclable 12 or 14-gauge steel and are integrated with Flo-Coat to further increase strength and weather resistance. Our carports come with a 35 year warranty to ensure your peace of mind. If you are trying to search for carports by location, visit our carports location page to see available carports in your area.
Our do it yourself carport kits are incredibly sturdy and highly versatile; our customers enjoy the ability to disassemble their carports when they move and reassemble them wherever they wish. In addition to being able to disassemble and move your carport, you can also add on to it at any point in time, allowing you to build in installments over a span of several years. Our carport kits can be built on almost any surface, including dirt, grass, concrete, or asphalt quickly and easily, all you will need to put it together is a ratchet. If you need some help deciding on what type of carport you want, visit our standard carports page to some different designs in action.
By purchasing a do it yourself carport kit from EZCarports.com you will save 5% on your total order price and be in complete control over where and how your carport is built. Build and price do it carport kits online by using our carport configurator , you'll get an instant quote and you can even order online.
Why Choose EZCarports.com?
Friendly Customer Service 9am-9pm
Buy Online, Hassle Free
Best price Guarantee
Free Delivery
Free Installation
Our goal is to make sure you have a hassle free and enjoyable shopping experience, you may order online by using our configurator or call 877-204-8816 to speak with a customer service representative about do it yourself carport kits.
For quick information, take a look at our FAQ page
Also, if you are seeking a carport in a specific area consult our Carport Locations page to see how EZCarports is fulfilling needs in your region.
Check out our Do It Yourself Carport Kits

image gallery

to learn about our 3 different roof options!