Double Carports Entirely Customizable to fit your Specific Needs from EZCarports

Free shipping and installation, design, price and buy today on EZCarports.com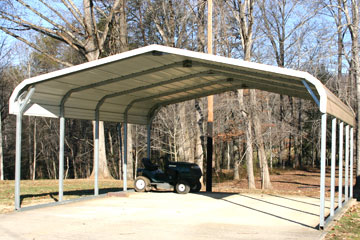 Taking care of what is important and valuable to you is a critical part of your life. Why let elements such as rain, hail, snow, wind, debris, and damaging sunlight harm what you have worked so hard to earn? At EZCarports.com, we offer all kinds of carports to protect what you love. Our double carports offer great coverage and can be custom made to fit your individual needs. You can protect your automobiles, boats, RVs, machinery, and any other items in our double carports. They are the best quality on the market today and are available using either 12 or 14-gauge steel that can withstand any element imaginable. They can be placed anywhere including dirt, grass, concrete, or asphalt and the best part is you can customize them entirely to fit your specific needs. If you need some inspiration when designing your carport, visit our standard carports page to see different carport styles in action. Looking for a carport by specific area? Check our online Carport Directory to see how EZCarports is providing for your region
With the click of a mouse from the comfort of your home, you can choose the number of windows, doors, and garage doors, as well as choose the color of the steel itself for your double carport. Our metal carport kits can come in any size and shape imaginable.
We guarantee precision manufacturing with our experience in the industry for 35 years. We want to make your shopping experience simple and easy for you and we can do just that with our exceptional customer service. Purchasing a double carport is a lifetime investment and with our experience, the lowest possible prices are available for you today. The weather is unpredictable, but we can predict how safe your valuables will be within one of our double carports.
Why Choose EZCarports.com?
Friendly Customer Service 9am-9pm
Buy Online, Hassle Free
Best price Guarantee
Free Delivery
Free Installation
For questions and further assistance, call us Toll Free at 855-296-0037 or consult our FAQ page online.
Check out our double carports

image gallery

to learn about our 3 different roof options.