Enclosed Carports from EZCarports

Build and price online to save on delivery & installation!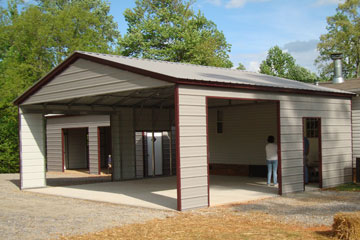 Enclosed carports are a great way to protect your belongings in the best way possible. We offer affordable, durable carports that you can easily design and build from the comfort of your home with the click of a mouse. Our enclosed carports are made of recyclable, 12 or 14-gauge steel that can withstand any element imaginable, such as rain, hail, snow, wind, debris, and damaging sunlight, while preventing them from destroying the things that matter the most to you. Our enclosed carports are a great place to store automobiles, boats, RVs, machinery, and any other items. If you are looking for a carport by specific region, check out our Carport Locations page
By using our carport configurator, your enclosed carport is only a few simple steps away. You can design your own enclosed steel carport with whatever dimensions suit your needs and desires. You can choose the color of your enclosed carport as well as the number of windows, doors, and garage doors. You can also shop for our enclosed carports by photo and choose from a wide variety of choices. Our goal is to make your shopping experience with us easy and enjoyable and we vow to provide the best customer service and quality enclosed carports on the market today.
Our enclosed carports can be installed onto any surface including dirt, grass, concrete, and asphalt with ease. We have relied on precision manufacturing for over 35 years making our enclosed carports durable enough to last for decades upon decades. Now, it is easy to protect the things that you have worked so hard to earn by purchasing an enclosed carport. We can't change the weather, but we can change the way you protect your vehicles, machinery, equipment, and other possessions from it.
Why Choose EZCarports.com?
Friendly Customer Service 9am-9pm
Buy Online, Hassle Free
Best price Guarantee
Free Delivery
Free Installation
Need further assistance? Feel free to contact us Toll Free at 877-204-8816 or consult our FAQ page for quick answers to your questions.
Check out our enclosed carports

image gallery

to learn about our 3 different roof options.