Metal carport kits from EZCarports

Build and price online for free deliver and installation!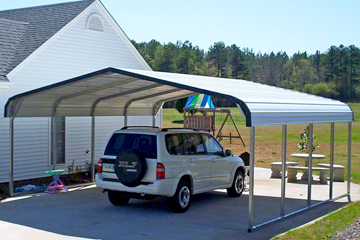 Metal carport kits protect your vehicles and other belongings from elements such as rain, hail, snow, wind, debris, and damaging sunlight. With our steel metal carport kits, you can protect your automobiles, boats, RVs, machinery, and any other items using either 12 or 14-gauge steel that can withstand any element imaginable and can also be placed anywhere including dirt, grass, concrete, or asphalt. Looking for a carport in your area? Consult our Carport Locations to see carports in your area.
Our metal carport kits can come in any size imaginable and with the click of the mouse from the comfort of your home, you can be the proud owner of a steel metal carport kit today. While being in the industry for 35 years, we strive to make your shopping experience the simplest it can be. We offer nothing than the best metal carport kits in the industry and the finest customer service. We rely on precision manufacturing ensuring superior quality compared to our competitors. Our metal carport kit configurator allows you to choose exactly what you want and lets you completely customize your carport or metal building. This simple online tool allows you to choose the number of windows, doors, and garage doors, as well as choose the color of the steel itself. If you run into problems with designing your carport, check out our standard carports for design ideas.
Purchasing a metal carport kit is a lifetime investment and with our experience in the industry, we offer the lowest possible prices. Don't let your belongings that you have worked so hard to earn end up ruined by the unpredictable. We have customer service professionals waiting to help you directly. Take the weather by the reins and control what you can by designing, building and purchasing a metal carport kit.
Why Choose EZCarports.com?
Friendly Customer Service 9am-9pm
Buy Online, Hassle Free
Best price Guarantee
Free Delivery
Free Installation
For questions or assistance, contact us Toll Free at 877-204-8816 or find our FAQ page for quick answers.
Check out our metal carport kits

image gallery

to learn about our 3 different roof options