Metal

carports from EZCarports

Your carport can be installed and delivered for free!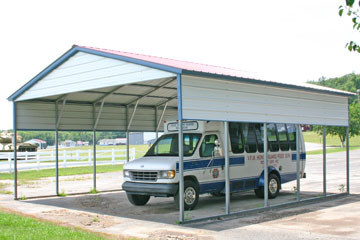 Metal carports are a great way to protect your automobiles, boats, RVs, machinery, and any other items in the best way possible. We offer affordable, durable metal carports that you yourself can easily design and build with the click of your mouse from the comfort of your home. Since our metal carports are made of recyclable, 12 or 14-gauge steel, they can withstand any weather element such as rain, hail, snow, wind, debris, and damaging sunlight. Our metal carports or steel buildings are a great place to store anything of value that is important to you.
Here at EZCarports.com, we allow you to be the boss. You get to decide what kind of metal carport you wish to have and we allow you to choose the number of windows, doors, and garage doors, as well as the color of the steel itself. Whether you need a large or small metal carport or steel building, we can make anything a possibility. We want to make your shopping experience easy and simple and we will do anything to make sure that is true. We have been in the industry for over 35 years and our precision manufacturing proves our experience. We offer the best quality in metal carports and steel buildings and make it easy to protect what matters the most to you.
Come build with us today and we will give you free shipping and installation. We vow to give the best customer service and product quality as well. Building a metal carport or steel building with us is a lifetime investment and we guarantee your steel structure will last for decades upon decades. Let us help you in keeping the weather off what you have worked to earn by giving us a call today or going online to get a quote. We can't change the weather but we can change the way you protect your valuables from it.
Contact us today Toll Free at 877-204-8816 for questions, or consult our FAQ page online for more information.
Looking for a carport by region? Check out our Carport Locations page online to find a carport in your area!
Check out our metal carports

image gallery

to learn about our 3 different roof options