Metal Carports in Asheboro NC from EZCarports.com
Protect your vehicles, your equipment, even store your belongings with a metal carport in Asheboro NC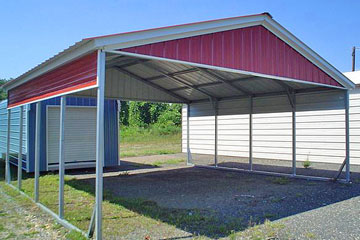 Click the Image to View our Carport Image Gallery
Metal carports in Asheboro NC from EZCarports.com are the best way to protect the things you love. Cars, trucks, SUV's, boats, RV's, even farm machinery can be housed inside or underneath one of our customizable metal buildings. We strive to not only offer the best buildings at a reasonable price, but also to offer you the best possible experience buying a carport.
The Asheboro zoo is famous nationwide for its zoo which features over 1000 animals from North America and Africa. Unfortunately when the Asheboro zoo was built, EZCarports.com wasn't yet in business and we could not build the structures for the Asheboro animals to live in. However, we are now offering top quality metal buildings in the Asheboro area. While we don't expect you to use the building to house an elephant, they're perfect for protecting your cars, trucks, SUV's, boats, RV's, and even farm equipment.
Our metal carports in Asheboro NC are built to last, and to make sure that you never have to worry that they do, our certified buildings come standard with a 35 year warranty.
Here are some other features our metal carports in Asheboro NC come with:
Free Delivery and installation, you can also opt to build it yourself and save 5% off your order price.
35 year factory warranty on all metal carports in Asheboro NC. Never again will you have to worry about your carport investment
Every carport we sell is made right here in America.
If you have any questions or concerns, please give us a call at 877-204-8816, or check out our FAQ page for answers to smaller questions.