Metal Carports in Benson, NC

Free Delivery and Installation for metal carports in Benson, North Carolina!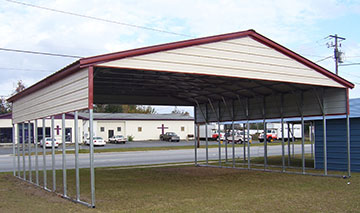 EZCarports.com is home to the most durable metal carports in Benson, NC to help protect the belongings that mean the mest! Here in Benson we're used to the mild temperatures brought in from the coast. That said, we do get the occasional raging thunderstorm, and blistering heat. The sun and rain won't keep us down though! Although our spirits stay high, the only thing that might get us a little down is rust and other corrosive forces of weather. Our lawn mowers and farm equipment needs to stay in good condition, and we plan on maintaining its integrity! EZCarports.com manufactures some of the most durable carports on the market today. We make our carports right here in our workshop in North Carolina! We manufacture them with galvanized steel which helps make them even stronger, plus they can be placed on nearly any surface! If you're looking for other locations we serve, please check the carport locations page for more information.
No matter what style, size, or features you want for your metal carports in Benson NC, we can manufacture it. If you want roll-up doors, we got 'em! Windows? Sure! Gabled ends? Yea! Colors? Definitely! Whatever the dimensions you'd like, and however you want it to look, we can accommodate your specific needs. We have two methods of choosing your carport online. One is by shopping through photos with the dimensions listed next to a picture. The second way is to design your very own online! With our carport configurator , you can enter your zip code, your dimensions, colors, windows and doors, and we'll give you the full price online!
Why Choose EZCarports.com?
Friendly Customer Service 9am-9pm
Buy Online, Hassle Free
Best price Guarantee
Free Delivery
Free Installation
Come check us out at EZCarports.com, we're positive we can get you a great carport for a great price! If you have any questions or just want to talk to a representative, call 877-204-8816 and we'll help you out.
Check out our Carport Image Gallery to learn about our 3 different roof styles available for metal carports in Benson, NC.