Metal Carports in Blacksburg VA available today!

Free Delivery and Installation for Metal Carports in Blacksburg, Virginia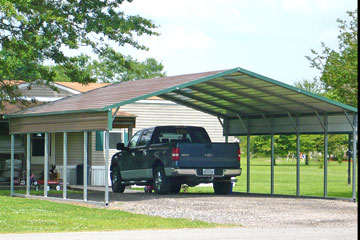 EZCarports.com metal carports in Blacksburg, Virginia is now offering more fully customizable options with free delivery and installation. Our carports are all steel and are made right here in America. These carports are a perfect way to protect your vehicles from the Virginia weather. Cars, trucks, golf carts, even RV's can fit neatly inside our carports and be fully protected from all kinds of weather and debris. If you are looking for more areas near you that we serve, please visit our carport locations page for more information.
SPECIAL! - EZCarports is offering optional expedited delivery & installation for all metal carports odered and being delivered to Virginia.

Visit our speedy metal carport delivery

page for more info!
Our carports are fully customizable and you can build and design your own using our carport configurator . You can choose the dimensions, the number of walls, windows and doors, even the color. If you are overwhelmed by the number of options, you can check out our standard carports page for pictures and specifications of our most popular models.
Blacksburg is known for many things; being the home of Virginia Tech, being the largest town in Virginia, but maybe most importantly it has been named the best place in America to raise kids by Business Week. Blacksburg offers a perfect environment for your kids to grow that is also safe and wholesome. Here at EZCarports.com we believe in safety, too. That's why our carports are built out of 100%, 14 or 12 gauge steel, and integrated with Flo-Coat to increase strength and durability even more. Our carports offer unparalleled protection from bad weather, debris, and anything else that life might send your way. Protect your belongings with metal carports in Blacksburg VA today, and enjoy the peace of mind that comes with owning a top quality carport.
Why Choose EZCarports.com?
Friendly Customer Service 9am-9pm
Buy Online, Hassle Free
Best price Guarantee
Free Delivery
Free Installation
We strive to make your EZCarports experience pleasant and easy. Our user friendly website and configurator will let you find the dimension and design that fits your needs best.
We provide durable carports that are an investment for many years, through the heavy snow and unpredictable weather. Make the investment of protection today! Build and price online or reach us today at 877-204-8816 .
If you need any further assistance, our FAQ page online is a helpful option for quick answers!
Check out our Carport Image Gallery to learn about our 3 different roof styles available for metal carports in Blacksburg, VA.