Metal Carports in Brevard, NC
Customize and purchase metal carports for Brevard, North Carolina online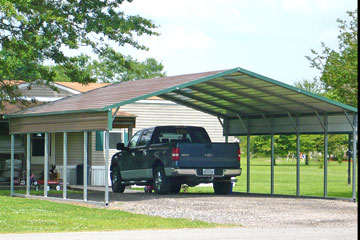 EZCarports.com in Brevard, NC is the best place to find steel carports to fit all of your storage and protection needs from cars and trucks, to boats and campers, to tents and hiking equipment. For all of the things to do in this town, you have a lot of belongings that need to be protected from the weather. If you're looking for another location near you that we serve, check out our carport locations list.
Brevard is home to a beautiful setting, adventurous outings, and White Squirrels. Whether you are checking out the Bubble Chambers in the Pisgah Forrest, or hiking to sight-see the famous White Squirrels, you are sure to be having a blast. With all of the things to do, you have probably accumulated a lot of important belongings, and we have the metal carports in Brevard NC available to keep them safe from the weather.
Why Purchase Metal Carports in Brevard NC? All of our carports are steel manufactured and have many options to be colored, enclosed, and custom designed. For over 35 years in the industry, quality service has been our biggest priority, and we will give that same service to every customer.
We aim to make your EZCarports experience as easy as possible, and our online configurator will let you customize the structure that you need. Problems while customizing? Check out our standard carports page for inspiration. With a 35 year warranty, our carports will protect your things for years to come.
Why Choose EZCarports.com?
Friendly Customer Service 9am-9pm
Buy Online, Hassle Free
Best price Guarantee
Free Delivery
Free Installation
Get out and enjoy the waterfalls, camping, and beautiful surroundings while you know that we are keeping your belongings protected at home! Build and price online today or reach us Toll Free at 877-204-8816 to speak to a carport professional. We have the metal carports in Brevard, North Carolina that you need!
If you need any further assistance, our FAQ page online is a helpful option for quick answers!
Check out our Carport Image Gallery to learn about our 3 different roof styles available for metal carports in Brevard, NC.