Metal Carports in Charleston SC available online today!
Customize lasting metal carports in Charleston, South Carolina online!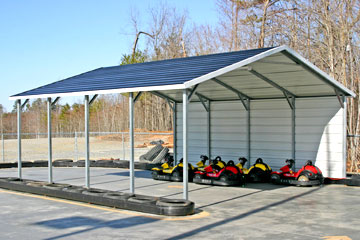 EZCarports.com in Charleston, SC is the best place to find carports that meet any of your protective storage needs from cars and RVs, to boats and bikes, to decorations and power tools. All of the things that are accumulated through life can add up, and keeping those things safe from the elements is why we are here.
Charleston is a beach community that prides itself in the preservation of its historic settings. As we all know, the sand and wind have an effect on your belongings and keeping them protected is our priority. All of our carports can be configured to your specific needs and an enclosed carport might be just the thing you need to protect your valuables from the wind and sand. Whether you are storing a car or boat, or need a place to stash your Firefly sweet tea collection, our metal carports in Charleston, SC can protect your things from the coast's harsh weather conditions.
Why should you buy metal carports in Charleston, SC from EZCarports? Our carports are strong steel structures with a 35 year warranty to keep your belongings protected for a lifetime. All of our structures include a "flow coat" that uses three chemical treatments to prevent the rusting of the metal in harsh climates like Charleston's coastal wind and sand.
Each steel structure comes with a 35 year factory warranty
Our biggest priorities are quality manufacturing and customer service
Each carport comes with "flow coat" treatment to prevent from rusting
With buying metal carports Charleston SC can be a breeze! We seek to make your EZCarports experience easy and delightful, and our simple online configurator gives options for anyone to build a structure that fits their needs best. Our metal carports in Charleston, South Carolina can be tailored to accomodate even the harshest coastal conditions.
We can't take the wind and sand away from Charleston, but we can protect your things from it. Build and price online today or reach us at 877-204-8816 to speak with one of our professionals about your storage needs.
If you need any further assistance, our FAQ page online is a helpful option for quick answers!
Check out our Carport Image Gallery to learn about our 3 different roof options available for metal carports in Charleston, SC.