Attractive Metal Carports in Charlotte NC online today!
Customize and purchase attractive metal carports in Charlotte, North Carolina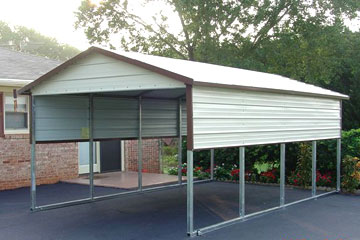 EZCarports.com in Charlotte, NC is the best source for finding attractive carports that fit your urban lifestyle. Home to our state's professional sports teams, and the capital of NASCAR, Charlotte holds many things close to its heart.
Overtime, many people generate a lot of items that need to be protcted, but living in an urban area can make it difficult to find a storage place that is attractive enough for your home and neighborhood. You might see carports and storage buildings around, but many don't go along with the look of a house or neighborhood. EZCarports allows each carport to be custom designed to complement the design of your house, while also offering the perfect way to store your things from the elements in the most attractive way. Our Metal Carports in Charlotte, NC will store your things and look good at the same time!
Why buy metal carports in Charlotte, NC from EZCarports? We have options to make a carport the same color as your house, or make it an enclosed space to ensure the most attractive storage setting. Our structures are sturdy and reliable, but will complement your urban living and most of all, your house. With 35 years of experience in the industry, we can help you make the decision that will protect your things in the most attractive way.
We offer attractive carports with multiple color and size options
Delivery and assembly time consistently 50% less than competitors
Every carport has a 35 year manufactory warranty
Upon purchasing one of our metal carports in Charlotte NC, storing your belongings in an attractive structure will be possible! We will provide shelter and protection to your things, while giving your household an attractive edge. Our reputation proves that the carports that we provide are the best in the industry, and our 35 year warranty shows that they last. Our simple configurator will help you find which color and design fits your house best.
Build and price today online, or call our professionals at 877-204-8816 who are happy to answer any of your questions. Take advantage of a storage option that will fit with your urban living!
If you need any further assistance, our FAQ page online is a helpful option for quick answers!
Check out our Carport Image Gallery to learn about our 3 different roof options available for metal carports in Charlotte, NC area.