Metal Carports in Columbia SC available online
Customize and purchase metal carports in Columbia, South Carolina !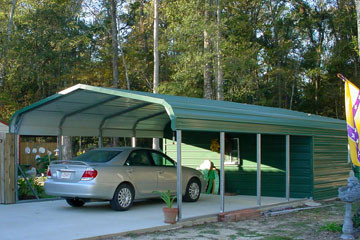 EZCarports.com in Columbia, SC is the home to dependable carports to meet all of your storage and protection needs from cars and boats, to RVs and tractors. All of the things in your life can add up, and keeping the weather off of your investments is very important.
Columbia, South Carolina is the home to "The Gamecocks," hot weather, and fun in the sun. Summers here are a blast and the hot weather and sunshine are sure to get you outside to enjoy it, but the sun can hurt the things that we find most important. Those cars, boats, RVs, and jet-skis are forever important to us, but they take on a lot of exposure to our harsh weather. Our metal carports in Columbia, SC will keep your belongings protected for years to come!
Why should you buy metal carports in Columbia, SC from EZCarports? Our carports use a strong steel structure along with a 35 year warranty to keep your things protected for a long time. Quality manufacturing and customer service are our biggest priorities, and 35 years of experience in the industry keeps our manufacturing precise and reliable.
Each carport comes with a 35 year factory warranty
Our structures are a lifetime investment guaranteed to last
Delivery and Assembly time consistently 50% less than competitors
When it comes to buying metal carports Columbia SC will be a breeze with EZCarports, as we strive to make your experience pleasant and easy. Our user friendly website uses a simple configurator that will let anyone build a structure that fits their needs the best.
The sun is sure to shine here in Columbia, and we can help you protect your boats, cars, RVs, and jet-skis from it's bright rays. Build and price online or reach us today at 877-204-8816 to speak with an EZCarports representative.
If you need any further assistance, our FAQ page online is a helpful option for quick answers!
Check out our Carport Image Gallery to learn about our 3 different roof options available for metal carports in Columbia SC.