Metal Carports in Concord NC available to customize today!
Free Shipping and Installation with metal carports in Concord, North Carolina !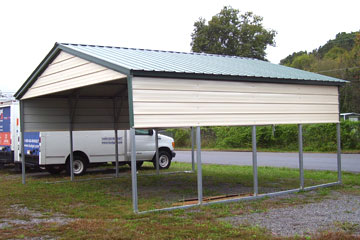 EZCarports.com in Concord, NC is the #1 source for protecting your belongings in a quality metal carport. Our carports are designed to offer you the best protection available for your cars, trucks, RV's, and equipment. We use only 100% recyclable 12 and 14 gauge steel integrated with Flo-Coat and we sell them factory direct to you so we can offer you the lowest price possible.
Concord, North Carolina is the home of the Charlotte Motor Speedway where the Coca-Cola 600 is held every year. Here at the Charlotte Motor Speedway, thousands of people come out to watch Nascar drivers compete in one of the most prestigious racing events. At EZCarports.com we know what it's like to love our cars. That's why when we provide metal carports in Concord NC, we make sure it's built to last so it can protect our cars and trucks for years to come.
Our carports are made to protect against damaging weather and debris; sunlight, hail, pollen, and branches all pose a threat to your property if not properly protected. Customers of our metal carports in Concord, NC love our structures for the following features:
Fully customizable. You can choose the size, number of walls and windows, even the col or of your carport.
Versatility. Our carport can be built on any surface, can be disassembled and moved quickly and easily, and you can build on to it at a later date without a problem.
Peace of mind. Our carports are built to last, and our optional 35 year warranty guarantees that they do.
If anywhere knows the importance of metal carports Concord NC sure does! Build and price your carport today using our online configurator or give us a call at 877-204-8816 to speak with a representative. Protect the things you love with an EZCarports.com carport.
If you need any further assistance, our FAQ page online is a helpful option for quick answers!
Check out our Carport Image Gallery to learn about our 3 different roof options available in metal carports of Concord, NC.