Metal Carports in Dunn, NC Online

Quick and easy way to buy metal carports in Dunn, North Carolina !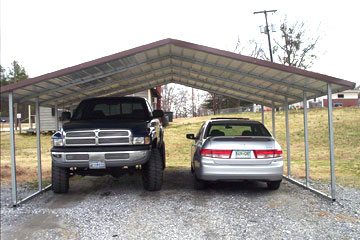 In Dunn, North Carolina we're always looking for a great way to relax and have fun. Whether it's riding a bike, driving a four-wheeler, or going fishin', we manage to have a good time. We also know the value of the equipment we use, and we like to keep it in good shape. We hate rusty chains and sockets, chipped paint, and loose parts. That's why we protect our equipment with a sturdy metal carports in Dunn, NC from EZCarports.com. No matter what the size of your four-wheeler, RV, or any other vehicle, EZCarports.com has a carport for you. We offer carports with frames made of galvanized steel for sustainable reliance for years to come. These frames are sturdy and maintain integrity on many surfaces from soil to cement. No need to worry about thunderstorms ripping through and destroying your carport, ours are sure to last, and come standard with a 35 year warranty! The city of Dunn prides itself on its industrial prowess, and they know steel pretty well considering they manufacture truck bodies. We value the hard working ethics of the Dunn folk, and we'd love to provide you with a reliable carport!
A couple of other reasons we're the best metal carports in Dunn, NC:
Delivery and Installation time is generally 50 % less than other carport Companies!
Transportation is also included!
We offer great coupons and discounts!
Go to EZCarports.com and check out our carport configurator to design sturdy metal carports in Dunn, NC that match your specific carport needs. We promise that if you can't find what you're looking for in our shop-by-photo option then you can easily construct one of your own. Just plug in your zip code and click the button that says, "Click Here to Get Started." Construct your carport with any additions you want, and it will give you an accurate price after delivery and installation for all metal carports in Dunn, NC. Give us a call 877-204-8816 .
Check out our Carport Image Gallery to learn about our 3 different roof options.