Metal Carports in Durham, NC
Build and Price Your Metal Carports in Durham, North Carolina Online!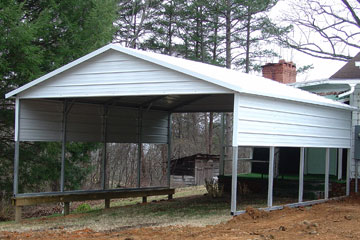 EZCarports.com in Durham, NC manufactures, sells, and installs carports all over the United States. We can offer top quality metal carports in Durham, NC at a competitive price by selling them factory direct and eliminating middle-man markup. Our carports are made out of 14 gauge steel integrated with Flo-Coat to increase weather protection.
Durham, the Bull City, has grown quite a bit since the days of the Bull Durham Tobacco Factory where it got its nickname and the start of its rapid expansion. At EZCarports.com we understand expansion; we started out over 35 years ago and have been growing ever since. Durham is now one of the largest cities in North Carolina and home to the world famous Duke University.
Durham isn't done growing, between 2000 and 2010 the population grew by over 20%! You want to help you keep that going by offering you the most versatile carports in the industry. Here are a few things our metal carports in Durham, NC are capable of, that we hope will help Durham expand:
Expanding. Our carports are designed to allow you to add on to them whenever you want. No other carports are designed to let you add on to it years after the initial build.
Moving. Our carports are super easy to move, simply disassemble and rebuild wherever you want. Our carports are easy to build on just about any surface, so there's no limit to new locations.
Providing Peace of Mind. Our optional 35 year factory warranty is the perfect way to protect your investment.
Check out our online configurator today and build the perfect carport for your needs.
We provide the most durable and versatile carports in the industry. These metal carports in Durham, NC are a great way to protect your valuables from weather and debris. Invest in a carport today to protect your vehicles, store your equipment, or as a workshop. Build and price your carport online or call us today at 877-204-8816 .
If you need any further assistance, our FAQ page online is a helpful option for quick answers!


Check out our Carport Image Gallery to learn about our 3 different roof options.