Metal Carports in Eden, NC

Free Delivery and Installation for all metal carports in Eden, North Carolina !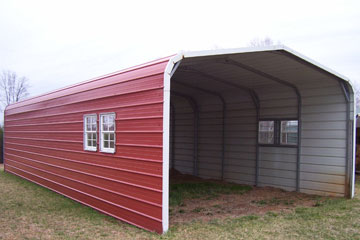 We have great carports for the folks of Eden. Here at EZCarports, we manufacture our structures here in North Carolina and inexpensively ship them everywhere across the state, including Eden, where the Dan and Smith Rivers meet. The Land of two rivers gets plenty of heat and its own fair portion of rain as well. These two things can really damage your boat or car over time. This damage wont just hurt the value and utility of your vehicles, but also their appearance. Our high quality metal carports in Eden, NC are manufactured to last for decades and will keep your valuables safe, protected, and clean for many years to come.
We make the purchasing process easy, so you can get it done and over with in under fifteen minutes. One of the best reasons to work with us is the ease with which we make the process of purchasing our Carport Kits. Our site is designed for fluidity, and we make sure that the process is quick and to the point. We even include the exact price you will be paying which includes transportation to your home. Installation and Delivery are included which help make our prices some of the lowest on the market today. Although our carports are affordable, we pride ourselves in manufacturing some of the strongest and most durable carports in the country. In fact, we use some of the highest quality, corrosive resistant material on the market today.
Important reasons why EZCarports is right for you:
We use high-grade, galvanized steel with added Flo-Coat to enhance its resistance to rust, damage, and environmental elements
Our carports are guaranteed to last with our 35 year warranty
Installation and delivery is free and takes half the time of our competitors
We take pride in our American manufactured steel products. We guarantee our metal carports of Eden, NC will last a long time so we offer a 35 year warranty on all the certified buildings we sell. We've made the process so refined that our delivery and installation time has been cut down to nearly 50% of that of other companies. So come check us out online, or give us a call at 877-204-8816 .
If you have any further questions for metal carports in Eden, NC, our FAQ page online is a helpful tool for quick answers!