Metal Carports in Farmville, NC

American Made Metal Carports in Farmville, North Carolina with free shipping!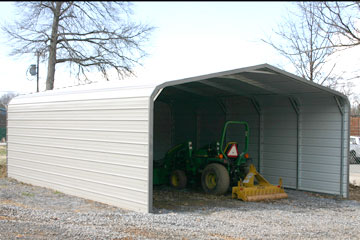 Ezcarports.com has metal carports in Farmville, NC that will meet any and all of your needs! Whether it's a tractor that needs storage from the rain, sleet and snow, or just a place to store your hay, you'll have a useful carport all to yourself. We know that down here in Farmville you're working hard to get your goods ready for market. If your metal parts are starting to rust, or your machinery is just wearing down, think about getting a carport or metal barn, or metal structure from ezcarports.com!
We offer an order by photo option online that provides with a photo of a carport we've sold as well as its size dimensions, features, and add-ons. Furthermore, we offer a build-it-yourself option where you can build your own carport online with our carport configurator with the correct size and length that you prefer. In addition, one can choose wwalls, indows, doors and other accessories such as color or gables. You have the ability to choose whatever size, style, design, and features you want! You can even match the color of your carport to your home, car, or even your tractor!
Here are a few reasons EZCarports' metal carports in Farmville, NC is right for you:
Build, price, and buy online, hassle-free in only a few minutes
Each certified building is guaranteed to last and comes with a 35 year warranty
No extra charge for installation and delivery
Ezcarports.com also offers a 35 year warranty for any certified building. This warranty helps to protect your metal structure from the corrosive forces of rust which damages many steel buildings over time. Also our delivery and Installation time is generally half as long as many of our competitors. On top of that, both installation and delivery come included when you buy a carport!
So come check out our configurator today! We assure you, of our available metal carports in Farmville, NC there is a carport on our website that will meet your needs. If you have any questions or difficulties take a glance at our FAQ page , if you can't find what you need there, give us a call at 877-204-8816 .