Metal Carports in Fayetteville, NC

Customize and buy your own metal carports in Fayetteville, North Carolina !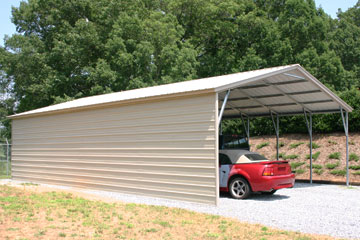 EZCarports.com in Fayetteville, North Carolina is a great way to protect your automobile and other precious belongings. Whether you are enjoying the Dogwood Festival attractions, biking around Cross Creek Park, or just mowing the lawn there is a lot to do! No one wants to worry, however, how they are going to keep their recreational belongings safe: your car out of the rain, your bike out of the same weathering conditions, your boat, and your motorcycle, all need to be taken care of! And if you have simply run out of room for all of these fun-producing things, considerour metal carports in Fayetteville, NC.
Using our online configurator, you can design, price and buy your own carport. By entering in your zip code we can even tell you how much you'll be spending in transportation, you'll know right away, UP FRONT, exactly what you'll be paying. Without any hassle you can have an incredibly high quality metal carport in Fayetteville, NC right next to your house. What makes us stand out in the industry?
We value the relationships we have with our customers, from the point of sale to installation.
Delivery and installation time is generally 50% less than other carport companies!
Our carports are a long-term investment, we understand this, and back ours up with a 35 year warranty.
We understand that you lead a busy life, and so we've made our configurator as quick and easy as possible. Just enter your zip, design yours by size, width, and other accommodations, and check out the price! Also don't forget that Installation and Delivery comes free! We value your time, and if you have any questions give us a call at 877-204-8816 for one of our professionals specific to metal carports in Fayetteville, NC.
If you need any further assistance, our FAQ page online is a helpful option for quick answers!
Check out our Carport Image Gallery to learn about our 3 different roof options.