Metal Carports Fort Mill SC
Free Delivery and Installation for Metal Carports in Fort Mill SC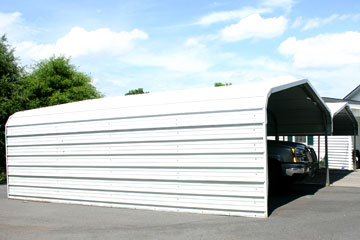 Click Here to see our Carport Image Gallery
EZCarports.com is the leading provider of high quality metal carports in Fort Mill SC. We're offering Fort Mill, SC the best carports and enclosures for sale to help you cover all of your storage needs. Because our buildings are fully customizable, all of your cars, trucks, RV's, and boats will fit comfortably under your custom designed metal structure. You can vi ew our image gallery to get some inspiration before using the carport configurator.
Fort Mill is the home of the legendary Elliot White Springs, flying ace from World War 1 and a member of the South Carolina Hall of Fame. Elliot Springs never stored his airplane in a metal enclosure from EZCarports.com, but he certainly would have if we'd been in business back then. You don't become a flying ace by storing your airplane in just any enclosure, and that's a lesson that you can apply to any vehicle you may own. You may never use your car to defend America from enemy forces, but it's very likely that you'll rely on it to take you somewhere, so why not protect it? Our carports offer superb protection against weather and outdoor debris, and ordering one has never been easier with our new c arport configurator . You can build, design, and price your carport and place the order within minutes and spend the rest of the day relaxing knowing that you'll soon have one of the nicest metal carports in Fort Mill SC.
Metal Carports in Fort Mill SC Feature:
Our certified carports come with a 35-year factory warranty, never worry about your investment again.
You design the building you want to your exact specifications and we make it just the way you want it.
Free Delivery and Installation. We deliver and install your building free of charge, or if you'd prefer to do the building yourself we'll discount you 5%.
If you have any questions or concerns, please give us a call at 877-204-8816 to speak with a customer representative. Or, if you're looking for further information or answers to our more frequent questions, please visit our FAQ page.