Metal Carports Gaffney, South Carolina

Every order comes with free delivery and free installation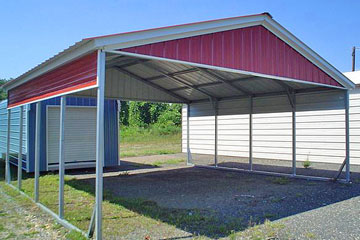 Click Here to visit the Carport Image Gallery
EZCarports.com sells the highest quality metal carport in Gaffney SC. Galvalumed 14 gauge metal can now stand between your carport and the world, ensuring that no outside forces harm your car while it's not in use. So check out the rest of our site, you'll learn a little about carports, find some great deals, and see why a carport from EZCarports.com could fit all your needs. If you're looking to dive straight into the building process, please visit our c arport configurator page , if you need a little inspiration first, then please check out our c arport gallery page to see examples of metal carports in Gaffney SC .
Peaches are a highly versatile fruit; delicious no matter how you prepare them. Gaffney happens to be the peach capital of South Carolina and home of the Peachoid water tower, while we can't offer you a way to make those peaches any tastier, we can help you protect your farm equipment, home vehicles, and offer you a comfortable setting in which to dine on a peach. Our metal structures are perfect for use as carports, but what's great about our structures is that they're scalable and customizable so you can store large farm equipment with ease, park multiple cars inside or underneath, you can even construct your very own man cave.
Metal Carports Gaffney SC Feature:
Our certified buildings come with a 35 year factory warranty. Enjoy some peace of mind knowing that we have your back for the next 3.5 decades
Free delivery and installation. Every building comes with it, and if you'd rather put it up yourself we'll give you a 5% discount.
So you see our structures are pretty versatile too. You can build, price, and even order yours today with our online configurator. If you have any questions or concerns, please give us a call at 877-204-8816.