Metal Carports in Garner, NC available today!

Free Delivery and Installation with metal carports in Garner, NC online!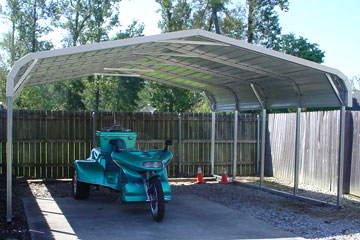 EZCarports.com has the best quality metal carports in Garner, NC on the market today! We have carports of all shapes and sizes to fit your needs! Our site is designed for fluidity and ease. There are two ways to purchase one of our sturdy carports: shop by photo and design your own. With the shop by photo option, one can choose from a set of standard carports, by photo, with the price listed beneath. Our other more popular option is to design your own with our carport configurator, which is beneficial if you have specific needs for you carports. You can choose anything from walls and doors to colors and gables! Upon entering your zip code it will show the final cost which includes installation and delivery!
The strength and durability of our carports is generally unmatched. We make our frames with galvanized, 14 and 12 gauge steel to keep it strong throughout the seasons! In addition, with any certified building one can get a 35 year warranty . One of the other benefits of ordering with us is that we generally deliver within half the time of our competitors! You can rely on us to deliver and quickly install your new Carport, with no time wasted!
Why EZCarports is one of the best carport dealers in the country:
Our carports are of the highest quality, using high grade galvanized steel that is added with Flo-Coat to maximize protection
We back our certified carports with a 35 year warranty to ensure they're longlasting
We have some of the most affordable prices on the market, plus we have free delivery and installation
We make our carports right here in Boone, North Carolina, with the same steel that was used to make the railroads to Garner, and we are proud to be part of a great work force down here in North Carolina. Please check out our site for more information, we promise not to disappoint. If you have any questions whatsoever give our FAQ page a glance, or give us a call at 877-204-8816 .
Check out our Carport Image Gallery to see all 3 roof variations available with our metal carports in Garner, NC!