Metal Carports in Gastonia, NC
Customize and purchase metal carports for Gastonia, NC online. No fuss, hassle free.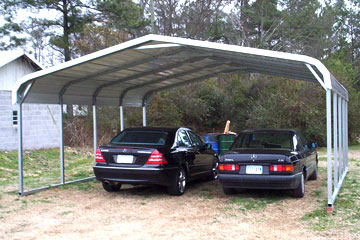 EZCarports.com in Gastonia, NC is home to the most reliable carports to fit your every need from vehicles, to equipment, to RVs and boats. All of these things in your life can add up, and we are here to give them protection from this season's weather.
Gastonia is the definition of summer fun, but summers like 2011 have given us some very hot and dry weather. As the weather has affected us greatly, some of the most valuable possessions sit outside and take on the heat. EZCarports provides metal carports in Gastonia, NC that will store and protect your belongings no matter how bad the weather gets.
Why should you buy from us? Our structures are steel manufactured and provide the most reliable protection in the industry, and with many options to make your carport closed or painted to match your house, we offer variety. Our 35 years in the steel carport industry can help you make the best decision in protecting your things from the heat this summer.
Every product holds a 35 year factory warranty
Delivery and Installation time consistently 50% less than other companies
Our structures are a lifetime investment that will last
We want to make your experience easy and pleasant. Our simple online configurator allows anyone to quickly design the carport that fits their needs the best. Also, you can click the Standard Carports page for photos of our structures installed.
We can't change the forecast, but we can provide you with carports that will protect your belongings from it. You can build and price metal carports in Gastonia, NC online today or call 877-204-8816 and speak with a representative.
If you need any further assistance, our FAQ page online is a helpful option for quick answers!
Check out our Carport Image Gallery to learn about our 3 different roof options available in metal carports in Gastonia, NC.