Metal Carports in Goldsboro, NC

The Quick and Easy way to get metal carports in Goldsboro, NC !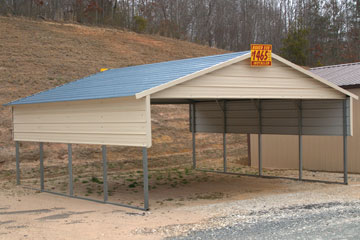 At EZCarports.com, you can grab metal carports in Goldsboro, NC for great prices! If you need a carport for your car or boat, or a metal shed for your garden equipment, check us out! We specialize in carports of all shapes and sizes! Each carport can be customized and designed for the features you want, including roof style, gabled ends, colors, walls, windows, and doors. We have a wide variety of colors which you can match up with your house, car, or even your favorite sports team! In addition, we have features like gables that improve protection, and also improve your structures appearance. Doors and windows can be made to fit on any side, and there are different types of doors to choose from as well. All of these options are available online, with our carport configurator!
But it doesn't stop there, we also offer:
Standard 35 year warranty
Delivery and installation time 50% less than other carport companies
Delivery and installation included!
Our structures are some of the strongest and most affordable on the market today. Also, our structures maintain their durability on almost any surface. We use auger anchors to keep our structures firmly locked into gravel and loose sediment, and thicker frames for heavy downfall of rain and other elements. You can find answers to any remaining questions you have on our website by taking a look at our FAQ page . However, if you have anymore, you can give us a call at 877-204-8816 and one of our customer service professionals would be glad to assist you!
Check out our Carport Image Gallery to learn about our 3 different roof options available for metal carports in Goldsboro, NC.