Metal Carports in Greenville, NC

Design and purchase metal carports in Greenville, NC online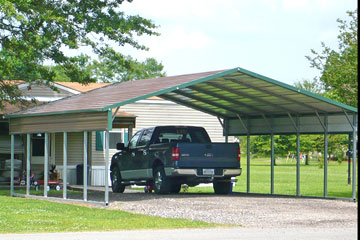 Keep your car out of the heat with a carport from ezcaports.com. Here in Greenville, NC we can look forward to pleasant summers. With all of the ECU students back home or abroad, we can expect quiet, sunny summers. We can pick out a picnic shelter at Elm St. Park, or go for a stroll down 3 rd street. It's time to get out with the whole family! But while you are getting out, let us at Ezcarports.com, keep your belongings safe, secure, and protected from the wear and tear of weather. Help keep that new car new , by keeping it safe and protected from the weather when not in use.
Yes EZCarports.com offers many different steel buildings to meet your storage needs. We also offer you the ability to customize your own metal building. Whether you want walls, windows, doors large and small, color, we can accommodate any need, and you can decide! Using our ezcarport.com configurator is easy, and we show you the price including transportation immediately beneath the illustration of your carport, and your exact specifications. Why we're the Best metal carports in Greenville, NC:
We offer a 35 year warranty!
Delivery and Installation time is generally 50% less than other competitors!
Transportation is also included!
We also have a variety of sizes and dimensions to offer for larger steel structures, to house equipment, sports equipment, RV's and whatever else you manage to collect! Our site is easy to use and we encourage you to take a look at our many discounts and extras, some including amazon gift-cards and sizable discounts. If you have any questions that can't be answered on our ezcarports.com FAQ section, give us a ring at 877-204-8816 .
If you need any further assistance, our FAQ page online is a helpful option for quick answers!
Check out our Carport Image Gallery to learn about our 3 different roof options available for metal carports in Greenville, NC.