Metal Carports Havelock NC
Build and order your metal carports in Havelock NC and start protecting your vehicles and equipment now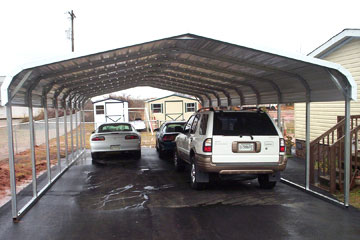 View Our Gallery of Metal Carports
EZCarports.com is an American carport manufacturer based in Boone NC. We understand what it's like to live in a small town, the kind of tradition and relationships that form. We're offering our top quality metal carports in Havelock NC because we believe in the small towns of America.
Havelock, you're a small town home to the largest Marine Corps Air Station in the world, Cherry Point. That's a very impressive thing to be the host of. We want to ensure that you're taken care of and even though you've got marines stationed in your backyard, we want to protect your property against something they can't; the weather.
Our American made metal carports in Havelock NC are designed to protect your cars, boats, SUV's, RV's, and any equipment you may need to store. Our carports are designed by you and built by us, so no matter what you need to protect, you've got room to do it.
We strive to make the ordering process as easy as possible with our carport configurator, which lets you design and order your carport entirely online, but you can also call us if you'd rather speak with one of our friendly sales people.
Our metal carports in Havelock NC feature:
Free delivery and installation, though if you'd rather build it yourself we'll knock 5% off the order price.
Full customization – we let you design the carport and we build it to your exact specifications. Never let pre-set formats get in your way.
35 year factory warranty comes standard with our certified buildings
If you have any questions or concerns, please visit our FAQ page or give us a call at 807-204-8816 to speak with a customer representative.