Metal Carports in Henderson, NC

Design metal carports in Henderson, NC that can keep your vehicle safe!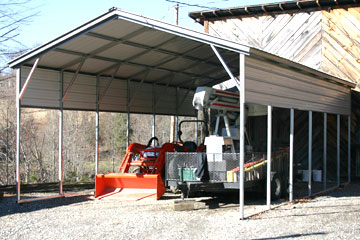 At EZCarports.com, when it comes to metal carports Henderson NC is a great place to find your structure. Henderson is no longer the "Lonesome Valley" it used to be. Nowadays, Henderson is filled with friendly people in a great environment. The people of Henderson need a way to keep their vehicles and other valuables safe from the elements, one of our carports can be the perfect fix. The road can be rough on your vehicle from time to time. With the many potholes, sudden stops, and screeching turns your car takes enough of a beating. Why let it take a beating when you're not even using it! When your car is sitting out in the open, the sun, rain, sleet and snow can really give it a thrashing and corrode its exterior. One of the best and inexpensive ways to take good care of your car is to protect it from the abrasive forces of weather with a sturdy carport form EZCarports.com.
Here are a couple of reasons why you should choose EZCarports:
We guarantee our carports are long-lasting, so we include a 35 year warranty
Delivery and installation and fees are included with no extra charge
Our buildings are extremely rust resistant with galvanized steel and enhanced with Flo-Coat
We make our buildings strong and sustainable from recycled metal. We take pride in them, built right here in the U.S.A. and we think you will appreciate our product just as much as we do. So check us out online to build and price the right carport for you.
If you have any questions about metal carports in Henderson, NC check out our FAQ page online, or give us a ring at 877-204-8816 .