Metal Carports in Huntersville, NC !
Purchase American Made Metal Carports in Huntersville, NC today!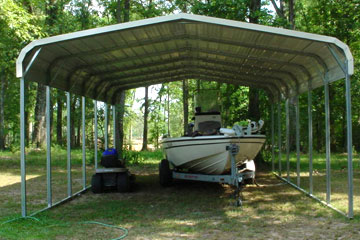 EZcarports.com sells the best metal carports available in Huntersville, NC for protecting your cars, boats, and RV's. We're so confident in our buildings that we offer an optional 35 year factory warranty so you can relax knowing your building is under warranty for the next three and a half decades.
Lake Norman is a huge attraction for locals and tourists alike, everyone wants to come out and enjoy the lake; swimming, boating, jet ski, or even yacht. After all the fun is had at the lake, there's no better way to protect and store your watercraft than with a carport from EZCarports.com. Our carports can be customized to offer protection for all sorts of vehicle from any kind of weather or debris.
Enjoy peace of mind knowing that your vehicles are being protected by a carport and that our carports are available with a 35 year factory warranty. We offer one of the longest warranties in the industry because we believe that time shouldn't be spent worrying about your possessions when the sun is out and the lake is so close.
We're proud of our carports for lots of reasons; their durability, strength, and versatility, but here are a few other things we're proud to say our carports are designed to do:
Move. Our carports are built so that you can easily disassemble and move them wherever you go. Never leave your carport behind when you move into a new house.
Grow. Our carports are built so that you can add onto them at any point in time, be it a week after the initial builds or a year. If you ever need more space, our carports are can give it to you.
Be Affordable. Our carports are sold factory direct to you, there's no middle man and no markup. We also offer you the option of installing your building yourself with a 5% discount.
Build and price your carport today with our online configurator. Don't risk letting your boat get beat up before it makes it to the lake. You can also call us at 877-204-8816 to speak with a service representative.
If you need any further assistance, our FAQ page online is a helpful option for quick answers!
Check out our Carport Image Gallery to learn about our 3 different roof options available for metal carports in Huntersville, NC.