Metal Carports in Indian Trail, NC For Sale!
Build and Price Metal Carports in Indian Trail, NC Today!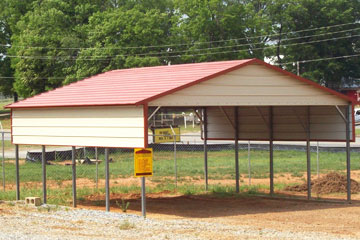 EZCarports.com sells a wide variety of all steel metal carports in Indian Trail, NC. Our carports are fully customizable so you can design your carport to fit any need you have, from protecting you vehicles, to storage, or even as a workshop. We manufacture these buildings so we can offer them to you at a factory-direct rate, with discounts available for people who want to build it themselves.
Our carports are made out of 100% recyclable 12 or 14 gauge steel and can be customized however you want it; you can choose the size, color, roof style, even the number of walls and windows. No matter what kind of space and surface you have to work with, you'll find a carport that fits your needs. Our carports are flame resistant, enclosable, and available in a multitude of colors including forest green and white.
Here are a few of our past customers favorite features:
Highly durable. Our carports are highly durable and we offer an available 35 year warranty on our certified buildings. You can rest easy knowing your carport is protected for the next few decades.
Our carports are incredibly easy to build and move. We offer a 5% discount to those who choose to build it themselves and installation is free for those who don't. Moving your carport is as easy as disassembling and packing it.
These carports are designed to allow you to build on to them in the future. If you ever need more space, adding it is incredibly simple.
You can build and price your ideal metal carports in Indian Trail, NC today using our online configurator or by calling one of our customer care representatives at 877-204-8816 . We strive to make the carport buying process as simple and hassle free as possible.
Make sure to consult our convenient FAQ page online for quick answers to any questions that you do have.
Check out our Carport Image Gallery to learn about our 3 different roof options available with our Metal Carports in Indian Trail, NC.