Metal Carports Kernersville NC
Purchase a

Sturdy Metal Carport

in Kernersville NC to protect your cars, boats, RV's, and even farm equipment.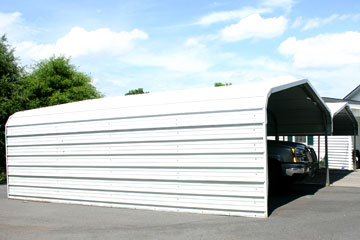 Click the Image to Visit our Carport Image Gallery
EZCarports.com is offering top quality metal carports in Kernersville NC. Fully customizable and ready to help you protect the things that mean the most, our carports are the most durable and versatile in the industry. We're your number on stop for metal carports in Kernersville NC.
Kernersville has grown from an Inn that once served breakfast to America's first president, into a bustling town of over 20,000 people. Now nestled in the triad with High Point, Greensboro, and Winston-Salem, Kernersville is an industrial town with a rich story to tell.
EZCarports.com metal carports in Kernersville NC are guaranteed to work as hard as the industrious citizens who own them, and to ensure that your carport never gives you trouble, our certified buildings come standard with a 35 year warranty. You can rest easy knowing that your investment is protected for the next 3.5 decades.
Our metal carports in Kernersville NC feature:
Full customization. You design the carport and we build it to your exact specifications
Fast and free delivery and installation, or if you'd rather build your carport yourself we'll take 5% off your order total.
35 year factory warranty on our certified buildings.
Kernersville works hard and we want to make sure you know that we're working hard to serve you. To make the carport shopping experience as easy as possible we've created the carport configurator so you can design your carport exactly like you want it and get an instant price quote while you design. You can also call one of our customer service representatives to discuss and order a building.
If you have any questions or concerns, please visit our FAQ page or call us at 877-204-8816.