Metal Carports Kinston NC
Purchase a metal carport in Kinston NC to protect your cars and prove your patriotism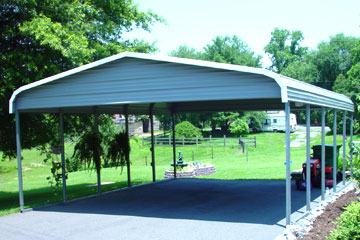 Click the Image to View our Carport Image Gallery
EZCarports.com carports are the most durable and versatile carports in the industry, with galvalume 12 gauge steel and a design that is left entirely up to the customer, we take a lot of pride in our work and we want to make sure that people can enjoy the fruits of our labor. This is why we're offering our metal carports in Kinston NC.
Kinston recently won the All-America City award, the second in the city's history, which is truly an impressive accomplishment. So it only makes sense that the All-America city would want an All-America carport, one that was manufactured right here in the United States. Our metal carports in Kinston NC could be the most American metal structure you ever park your car in.
This was a perfect match, really. All-America City meets all-America carport.
EZCarports.com's metal carports in Kinston NC are the only choice for the All-America citizen; built in America and sold in America.
If you aren't already convinced, our metal carports in Kinston NC feature:
Free delivery and installation, or if you'd like to put it together yourself we'll take 5% off the order price.
Full customization; we let you take over the design process and we'll put it together to your exact specifications.
35 year factory warranty on all certified buildings. Never again worry about your investment.
If you have any questions or concerns, please visit our FAQ page for quick answers, or give us a call at 807-204-8816 to speak with a customer representative.