Metal Carports in Lancaster, SC
Customize and purchase metal carports in Lancaster, SC online!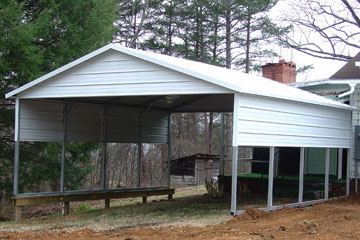 EZCarports.com is home to the best place to find metal carports in Lancaster, SC to store and protect your belongings from cars and boats, to RVs and bikes, to decorations and antiques. All of the things in your life add up, and protecting them from the elements is what we want to do!
"The Red Rose City" is one of the best places to live and raise a family. Over time things change, but the southern hospitality and history in this town stay preserved. You should be able to enjoy the 200 year old buildings on Woodland Ave, or the Red Rose Festival in the spring with the peace of mind that your belongings at home are safe from the weather, and EZCarports provides the structures for that to happen.
Why should you buy from EZCarports? All of our steel structures are manufactured to last for a lifetime with a factory 35 year warranty. Our focus for over 35 years has been quality carports, and outstanding customer service, and we will provide the same treatment to you and your family.
Each steel structure comes with a 35 year factory warranty guaranteed to last
Every structure is manufactured here in the USA
Our carports are investments for a lifetime
We strive to make your EZCarports experience pleasing and enjoyable, and our simple online configurator will help you build the structure that fits your needs best.
Keep preserving your values, and we will preserve the belongings that mean the most to you, no matter what! Build and price metal carports in Lancaster, SC online today or reach one Toll Free at 877-204-8816 .
I you need any further assistance or quick answers, consult our convenient FAQ page online at any time.