Metal Carports in Lexington, NC
Customize and purchase reliable metal carports in Lexington, NC !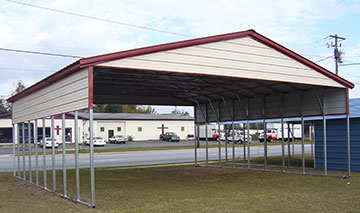 EZCarports.com is home to the most reliable carports in Lexington, NC with quality and reliable customer service to keep your belongings protected for a lifetime. Lexington will keep you "coming back" for more, with its great BBQ and most friendly hospitality.
EZCarports provides carports that will store and protect your belongings, and we strive to build customer relations to keep you "coming back" as well. Your outside belongings can be some of the most valued items in your life, from your vehicle, to your Boat and RV, to the old BBQ smoker in the back yard, and they deserve to be protected by the most reliable structure available.
Why should you buy from EZCarports? Our structures are steel manufactured to provide the most reliable protection, and we strive to give customers the best products with great service. We have 35 years in the steel carport industry, and we can help you make the decision that will protect your things for many years to come.
Our Carport professionals are happy to assist at any time
Every purchase comes with a 35 year manufactory warranty
All Carports are steel structures guaranteed to last
Our steel structured carports will provide ultimate protection to your belongings for years to come. Much like Lexington, we believe that customer service and quality in the most important factor to success.
We want your car to look new and your BBQ grill to cook for years, and we provide the best carports to do just that! At EZCarports.com, when it comes to metal carports Lexington NC is the perfect place to utilize its protection! Build and price your structure online or call us Toll Free at 877-204-8816 today.
Make sure to check out our FAQ page online to quickly answer any further questions that you may have.
Check out our Carport Image Gallery to learn about our 3 different roof options available for metal carports in Lexington, NC.