Metal Carports in Matthews, NC

Free Delivery and Installation on metal carports in Matthews, NC online!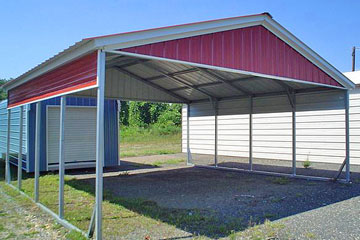 EZCarports.com is home to the most durable and dependable metal carports in Matthews, NC available online today! Although Matthews is headquarters to some large corporations, it still has a friendly, small-town environment. We would like to encourage those of you with no protection for your vehicle, large or small, to consider a carport from us which is sure to keep your vehicle safe, clean, and protected.
Just like shopping at Harris Teeter, our online system, is easy and affordable. Furthermore, like the products and prices listed at Harris Teeter, we are up front, with no hidden fees. If you're interested in a great carport, check out our carport configurator online. It makes the purchase process very easy by letting you design the carport you need with all of the features you want. After you've chosen the size, colors, and other characteristics of your carport, it will give you a price. The price includes the cost of (using your zip code) delivery and installation!
A few key reasons to choose EZCarports.com
Customize your carport down to the exact dimensions, features, and accessories you need
Our high grade steel and structural design make our carports some of the best in the country
Our website makes its quick and easy to purchase a carport in under 15 minutes
In addition, we offer a 35 year warranty with all certified buildings, which is to say that our buildings really last. We make our carports sturdy and reliable with galvanized steel and we try to ensure that every one of our buildings is constructed in a way that will make it easy to set up and last a lifetime. We are confident in our product, and proud to be a company based in North Carolina.
We think our site is clear, concise and easy to use, but if you need any questions answered give our FAQ page a look or give us a call at 877-204-8816 .
Check out our Carport Image Gallery to see the 3 different roof styles available for metal carports in Matthews, NC!