Metal Carports in Montpelier, VA
Purchase metal carports in Montpelier, VA to protect your farm equipment from weather and debris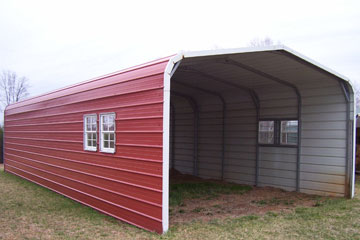 EZCarports.com is offering top quality metal carports in Montpelier, VA. Our carports are a perfect way to protect your farm equipment from the weather and debris; keep damaging sunlight, hail, snow, and pollen off of your equipment. Vehicles run smoother, longer when they're kept clean and out of the cold, so keep your vehicles clean and enclosed with a carport from EZCarports.com.
SPECIAL! - Expedited Delivery and Installation Available for Metal Carport Customers in Virginia.

Visit our Virginia Speedy Delivery Page

for More Information
Montpelier is known as a small farming community settled between Richmond and the Blue Ridge Mountains. As a farming community, there's always lots of equipment that needs to be stored and protected. EZCarports.com understands that and that's why we offer the strongest and most durable carports available. Our carports offer a great way to protect all of your farming equipment; trucks, tractors, bobcats, and ploughs can be fit into our carports with ease. Our multi-door carports make storing all your mobile machines in one place simple, and by fully enclosing them you can be sure that damaging weather and debris will be kept out.

Our carports are very popular for a number of reasons, but here are a few of the ones that our customers seem to love the most
35 year factory warranty on all of our buildings. Enjoy peace of mind knowing that your carport is covered for the next three and a half decades.
Our carports are big enough to store multiple farming machines, allowing you to store everything in one place.
Our carports are designed to allow you to add on to them at any point without disassembling them, so you can add a space for any new machines you might purchase in the future.
Our number one priority at EZCarports.com is to make the process of designing and purchasing a carport as easy as possible. To help us meet this goal, our website was designed to be as easy to navigate and use as possible.
We provide durable carports that are an investment for many years, through the heavy snow and unpredictable weather. Make the investment of protection today! Build and price online or reach us today at 877-204-8816
Make sure to consult our convenient FAQ page online for quick answers to any questions that you do have.
Check out our Carport Image Gallery to learn about our 3 different roof options available in metal carports in Montpelier, VA.