Metal Carports in Mooresville, NC

High quality and long-lasting metal carports in Mooresville, NC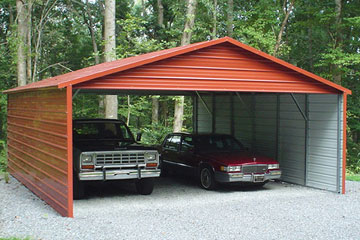 EZCarports.com provides you with durable metal carports in Mooresville, NC to protect your car from the elements ! The people of Race City, USA love a good race, with high standard, roaring, and road ripping vehicles. The drivers and especially there teams in Nascar take good care of their cars when they're not driving like speed demons on the track, and you should too. We know you already take good care of the parts on the inside which helps maintain the useful life of your car. We want to make sure your car doesn't get beat up on the outside. By keeping your car out of the direct path of the elements such as wind, rain, sleet, snow and the baking sun, you can help increase the overall life span of your car and maintain its appearance.
Let's keep those engines running for the next 100k! Here at EZCarports.com we make sure you get the best quality carport, made right here in the U.S.A, for the best price available. We understand you're busy and you don't want to waste a lot of time hunting around looking for the right carport for you. This is why we've made our site as easy to use as possible. With our carport configurator, you can design a carport yourself, hassle-free, and save a lot of time. All you need to do is fill in your specifications, check out the price, and buy it, which can take 15 minutes or less.
Here are a couple of things that make us the best in the business:
35 year warranty on certified carports that protects against rust and the corrosive forces of nature
We use 14 to 12 gauge steel frames which keep your frame strong and reliable over time
Delivery and Installation times are, on average, half of those of most other companies with no extra cost!
We do everything we can to make our carports the best. Race on over and check us out, for a great deal on a carport. We're sure you won't find a better carport, as fast, or with as good customer service anywhere else. Give us a call, if you have any questions: 877-204-8816 .
If you need any further assistance on metal carports in Mooresville NC, our FAQ page online is a good reference for quick answers!