Metal Carports in Mt. Olive, NC Available Online

Free Delivery and Installation for Metal Carports in Mt. Olive, NC !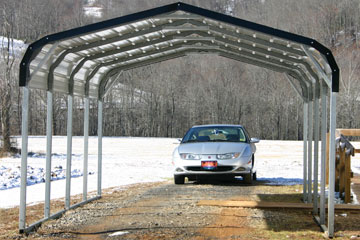 Ezcarports.com has metal carports in Mt. Olive NC available online today! Carports are a serious investment, and you want yours to last! We know the hardworking people of Mt. Olive are very interested in keeping their valuable goods safe and secure from the weather, which is why we'd like to help you find the right carport to meet your needs. At our site you can find a high quality carport that is very affordable.
Carports at EZCarports.com come standard with the right materials to keep your carport in place, no matter the surface you'd like carport to be placed on. We like to make our carports overly secure in order to make them last as long as possible. For example, we use auger anchors and galvanized steel to make them strong and durable.
One of the things that makes us the best is our 35 year warranty with any certified building! That's right, we have a 35 year warranty because we want to make sure that you know your carport is there to last. In addition, we provide installation and delivery that takes half the time of what it normally takes other companies to do. Furthermore, our carports are constructed right here in the United States, providing jobs to hard working Americans.
A couple reasons to choose EZCarports:
Design, price, and buy online in minutes with our carport configurator
High quality is ensured by using galvanized steel with Flo-Coat to maximize protection from rust
Over 30 years of experience manufacturing steel structures
So whether your protecting your boat from being worn down by snow and rain, or your car from being baked by the sun, we have a carport for you. It's quick and easy, so give us a try! We hope that we have answered any questions you may have, but if any questions still remain, check out our FAQ page and our Terminology page . Any other questions can be answered by our representatives at 877-204-8816 .
For further assistance regarding metal carports in Mt. Olive NC , our FAQ page online is a great reference to quick answers!