Metal Carports in Myrtle Beach, SC
Customize and purchase steel metal carports in Myrtle Beach, SC online!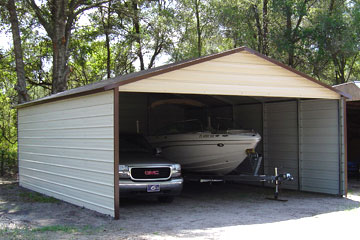 EZCarports.com is home of the most durable metal carports in Myrtle Beach, SC to protect your belongings from the beach weather from cars and boats, to motorcycles and RVs, to golf clubs and furniture. To keep your things protected from this beach weather is why we are here!
Myrtle Beach is the coastal place to be if you enjoy getting out and doing things like golfing, cruising in the bike rally, or enjoying a foot-long hotdog at "Peaches" on the strip. The only bad thing about this place is the extreme damage that can occur to your things when a hurricane rolls in, or an unexpected snow like 2010 shows up. At EZCarports, we want to make sure that all of your belongings are protected at all times.
Why should you buy from EZCarports? All of our steel structures are manufactured with "lasting expectations". We have provided quality service and structures for over 35 years, and we treat our carports with a "flow coat" that prevents rusting of the metal in coastal climates.
Each steel structure comes with a 35 year factory warranty guaranteed to last
Delivery and Assembly time consistently 50% less than competitors
Every structure comes with a "flow coat" for rust prevention
We aim to make your EZCarports experience as enjoyable and care-free as the beach, and our simple online configurator will give you the options to build a structure that matches with your needs best.
Be the beach bum that you deserve to be, and while you're gone our carports will protect your things no matter what! Construct and price online today or reach one us Toll Free at 877-204-8816 .
Make sure to consult our convenient FAQ page online for quick answers to any questions that you do have.
Check out our Carport Image Gallery to learn about our 3 different roof options available for metal carports in Myrtle Beach, SC.