Metal Carports in New Bern, NC

Get your metal carports in New Bern, NC online at EZCarports.com!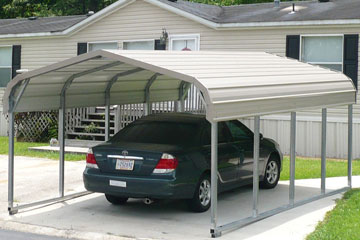 At EZCarports.com, we offer metal carports in New Bern, NC because we know it can get hot and you need to keep your valuables cool ! The alternating sun and rain can damage your car if you don't protect it. Causing rust, and damage from harmful sunlight, it's easy to see how a combination of the two can really damage your vehicle! That's where we come in! We can help you protect your car in a relatively inexpensive way that will be sure to make your car last longer! And the same goes for farming equipment, recreational equipment, boats, RV's and all other types of vehicles; we have a carport of every size to match your needs!
Our carports can protect your valuables from the torrential downpours that can sweep in from the Atlantic. Especially with our strong 12 gauge steel frames that can protect from heavv precipitation, wind, and other environmental elements. Our carports are also versatile in that they can be housed on a multitude of surfaces, from soil to concrete. If its soil, we use Auger Anchors to keep the carport deeply embedded to ensure ultimate stability and protection.
A few reasons why to go with EZCarports:
Design the carport thats perfect for your needs with our carport configurator
We use high-grade steel, Flo-Coat technology, and a flawless structural design to manufacture some of the best carports in the U.S.
Each certified carport is backed with a 35 year warranty to ensure longevity
We offer a 35 year warranty, which is almost as long as we've been in business! We are confident that you will continue to appreciate our carports further down the road. We also offer an unbeatable deal on our installation and delivery: it comes included! On top of that, our delivery and installation times are generally half of those of our competitors.
We hope that you're able to navigate through our site easily and find what you need. If there you have any questions don't hesitate to give us a call at 877-204-8816 or check out our FAQ page for metal carports in New Bern, NC.