Metal Carports in Newport News, VA
Design and buy a metal carports in Newport News, VA through EZCarports.com!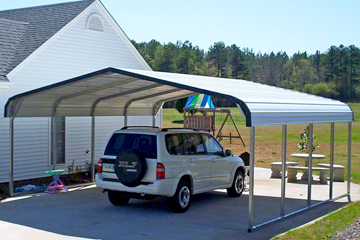 EZCarports offers metal carports in Newport News, VA for great prices! Newport News is a great location since it's close to the beach, with large municipal parks, and many beautiful aesthetic attractions. Feeling the spray of the ocean hit you on a warm breezy day, is something none of us takes for granted. The weather really makes or breaks a good day in the News, especially if you want to spend that day on the water. Something else that might dampen the evening is boat that has been worn down to the weathering from being kept outside.
SPECIAL! - Expedited Delivery and Installation Available for Metal Carport Customers in Virginia.

Visit our Virginia Speedy Delivery Page

for More Information
That's one of the reasons we make sturdy steel carports to shelter your personal belongings, whether they be cars, motorcycles, or boats, we have a carport that will withstand the ravages of weather and time. Yes our carports keep your belongings safe from weather, like no other carport, and there are good reasons to get one from us.
Here are some of them:
We offer a 35 year warranty on our metal shelters and carports.
We cut must other Carport companies delivery and installation time in half.
We have an easy to read, easy to use site that helps you complete the entire process of ordering a carport, quickly and efficiently.
One of the most useful parts of our sites is our online configurator. Our online configurator helps to expedite the task of calling someone up on the phone, and describing your specs to them, by giving you a format which you can use to readily design, price and buy your own carport online. No hassle, no recorded voice telling you to, "please wait." That said if you would like to speak to a representative just as quickly with any questions, give us a call at 877-204-8816 .
Make sure to consult our convenient FAQ page online for quick answers to any questions that you do have.
Check out our Carport Image Gallery to learn about our 3 different roof options available for metal carports in Newport News, VA.