Metal Carports in Pendleton, SC

Customize and purchase metal carports in Pendleton, SC online!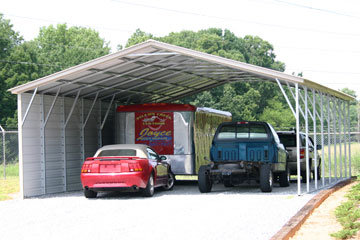 EZCarports.com in Pendleton, SC is the best place to find steel carports to fit all of your storage and protection needs from cars and boats, to fishing and hunting equipment, to golf clubs and lawn mowers. With all of the activities in this town, you have accumulated many close belongings, and protecting those belongings is why we are here.
The small town of Pendleton is a place where you always find something to pass the time, whether you are hunting, golfing, fishing, or enjoying the scenery. Over the years of living here, I'm sure you have purchased many things to keep you busy, and if you think about it, those things add up. Protecting your belongings from the weather is very important, and EZCarports wants to give you a place to store all of those things no matter what.
Why should you buy metal carports in Pendleton, SC from EZCarports? All of our carports are steel manufactured and treated with a flow coat to prevent rust from years of harsh weather. Quality and service have been our main priorities for the past 35 years, and we will give you the same treatment.
Every structure comes with a "flow coat" for rust prevention
Each steel structure comes with a 35 year factory warranty
Our structures are an investment guaranteed to last
We aim to make your EZCarports experience easy and enjoyable, and our simple online configurator gives options to build a structure that fits your needs best.
So get out and enjoy Pendleton's surroundings with the ease of mind that we have all of your things protected at home! Build and price online today or reach one of our professionals Toll Free at 877-204-8816 .
Make sure to consult our convenient FAQ page online for quick answers to any questions that you do have.
Check out our Carport Image Gallery to learn about our 3 different roof options available for metal carports in Pendleton, SC.