Metal Carports in Petersburg, VA
Protect your vehicles with metal carports in Petersburg, VA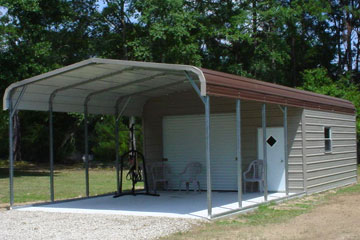 EZCarports.com metal carports in Petersburg, VA are the most durable and protective option. Our carports are the best in the industry, made from high quality 12 or 14 gauge steel. Our carports are a great way to protect your vehicles and possessions from the harsh winter weather and bleaching summer sun.
SPECIAL! - Expedited Delivery and Installation Available for Metal Carport Customers in Virginia.

Visit our Virginia Speedy Delivery Page

for More Information
Petersburg, Virginia is a great example of historical becoming modern. A pre-Civil War town that has flourished since and is now home to United States army base Fort Lee. Petersburg has done a great job of balancing the need to preserve its great town and expanding to make future growth possible. At EZCarports.com we are committed to helping you preserve and expand whatever and wherever you need. With our fully customizable carports you can protect your possessions from the weather, create a workshop, or both. Our carports are so durable versatile that you'll be able to enjoy a sturdy workspace for years to come.
Our customers love our buildings, but some of the most popular features we offer are
35 year warranty. Be confident that your investment is protected for the next three and a half decades.
Fully customizable carports. You can configure your carport to your exact specifications, choose your desired number of walls and windows, pick the color, and exact square footage.
Add on ready carports. You can add on to your carport any time you want to add more space.
We strive to make your EZCarports experience pleasant and easy. Our user friendly website and configurator will let you find the dimension and design that fits your needs best.
We provide durable carports that are an investment for many years, through the heavy snow and unpredictable weather. Make the investment of protection today! Build and price online or reach us today at 877-204-8816
Make sure to consult our convenient FAQ page online for quick answers to any questions that you do have.
Check out our Carport Image Gallery to learn about our 3 different roof options available for metal carports in Petersburg, VA.