Metal Carports in Roanoke Rapids, NC

Strong Affordable Metal Carports in Roanoke Rapids, NC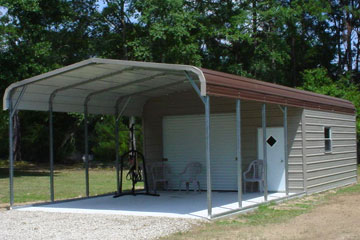 Metal carports in Roanoke Rapids NC, from EZCarports.com, can house your car, but also get rid of all of those dirty recreational belongings taking up room in your house! If you're taking some time out of your busy schedule to check out Medoc State Park, or just going for a bike ride around your local waterfowl park. Yes, fun is in the air, but also humidity, oxygen, pollen, and other weathering agents that can damage your car and automotive equipment! This is why a sturdy Carport from ezarpots.com can come in handy! Because you want these items, sure to bring you long lasting enjoyment for years to come, actually last till years to come.
EZCarports.com offers some of the best carports at the most affordable prices you can find. Our carports are known for the strength and durability, and we are known for our great customer service, and the ease with which we provide our customers with the exact carport they want for the right price.
Top 3 Reasons to choose EZCarports.com
Our carports come with a standard 35 year warranty.
We offer an easy to use configurator, as well as an "order by photo" option.
Our carport delivery and installation time is 50% less than most other carport sites.
We also offer: metal barns, garages, and other metal buildings. Each building you can alter and accommodate to meet your needs online with our easy-to-use configurator. Our site is set up to be used easily, but if you any questions or concerns give us a call at 877-204-8816 . So whether your house is filling up with loose rackets, soccer balls, or bags of manure, consider a carport or other metal structure from EZCarports.com.
Make sure to consult our convenient FAQ page online for quick answers to any questions that you do have.
Check out our Carport Image Gallery to learn about our 3 different roof options available on Metal Carports in Roanoke Rapids, NC.