Metal Carports in Roanoke, VA

Free Delivery and Installation on metal carports in Roanoke, VA !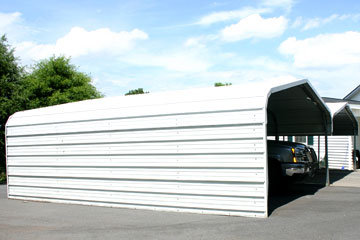 EZCarports.com is the source of affordable metal carports in Roanoke, VA. So come one, come All! Get a great deal on a Carport from EZCarports.com. When you get off the Blueridge parkway, or you come down from a hike up in Mill Mountain Park, you're going to be using your car or automobile. The longer your Cadillac, your Toyota, your ford, or your Chevy lasts, the longer you can make these trips up and abroad with your significant other. So it is easy to see why a Carport would come in handy.
SPECIAL! - Expedited Delivery and Installation Available for Metal Carport Customers in Virginia.

Visit our Virginia Speedy Delivery Page

for More Information
The weather here in Roanoke can be humid to say the least, especially for a car, so purchasing some protection is almost a necessity. Also think about places for your, ski's, basketballs, tools, etc. all of these can be placed in a carport, to readily accommodate whatever need you have for our metal buildings.
Some reasons to buy from us:
We make sure each customer has exactly what he/she wants, and we can do this with manufacturing facilites nationwide.
We guarantee 50% less delivery and installation time than our competitors, ensuring that once you've ordered your carport you can look forward to having and using it right away.
We take pride in what we do and are confident in our work, so we show it through a 35 year warranty.
So try out our configurator online, see what you can do to design your own carport. The configurator is easy to use and demonstrates almost exactly what you'll be receiving in when you order. Also listed on our site is our FAQ page, if you have any questions or concerns give that a click, or just give us a call at 877-204-8816 .
Make sure to consult our convenient FAQ page online for quick answers to any questions that you do have.
Check out our Carport Image Gallery to learn about our 3 different roof options available on metal carports in Roanoke, VA.