Metal Carports in Salisbury, NC
We Offer American Made, All Steel Metal Carports in Salisbury, NC !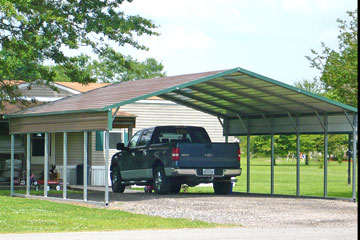 EZCarports.com strives to offer the best metal carports in Salisbury NC, at the best price, and provide you with the best purchasing experience. Our customers expect a lot of our carports and we do our best to exceed their expectations by offering high quality, highly versatile, affordable carports.
Salisbury is the birthplace of Food Lion and the legendary Cheerwine, two staples of any southern town. Salisbury is also a historical town and has done a remarkable job preserving its historical sites. EZCarports.com appreciates Salisbury's preservation efforts and we want to help its citizens preserve the things that are important to them by offering top quality carports at a factory direct price. Our carports are made of 100% recyclable steel that has been integrated with Flo-Coat to improve weather resistance and increase strength. Our carports are also fully customizable you can design every aspect of your building right down to the color. We also want to offer you peace of mind so we offer an available 35 year warranty on our certified buildings, you can rest easy knowing your carport is covered for decades to come.
We are proud to offer carports with so much versatility, here are a few of our favorite features and uses:
Our carports can be used to as storage for your equipment, to protect your vehicles, or as fully enclosed workshops.
You can add on to your carport any time you want to. Our carports are designed to let you keep building onto your carport any time after it's built.
If you decide to move and want to take your carport with you, disassembly is quick and easy.
Invest in protecting your property today, sit down with a Cheerwine and design your ideal carport using our online configurator, or you can call one of our representatives at 877-204-8816 .
Make sure to consult our convenient FAQ page online for quick answers to any questions that you do have.
Check out our Carport Image Gallery to learn about our 3 different roof options for metal carports in Salisbury, NC.