Metal Carports in Smithfield, NC

Free Delivery and Installation for metal carports in Smithfield, NC !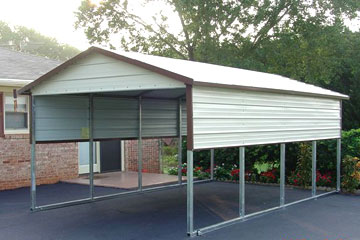 At EZCarports.com, our metal carports in Smithfield, NC will get you ahead of the weather! Whatever the corrosive force attacking the paint on your car or the inside of your boat, we can help you protect your vehicles from the damaging weather! We have carports that will last on any terrain; whether its problematic loose soil, or a concrete pad, we have the right equipment for the job. We use Auger Anchors to help maintain the buildings integrity, and use galvanized steel for sustainability. Our testimonials online can attest to the strength of our buildings in different climates and weather systems. We have locations in 48 of the 50 states, so we know that our carports can handle the different terrains and weather in America!
You can fully customize your carport with our online configurator; it's easy to use, and very informative! When you get to our home page all you have to do is click the button that says, "Click Here to Get Started on Carport Pricing." Enter your zip code, design your carport or steel structure, check the price, and order! The whole process can be done in 15 minutes! Although our process is quick and easy, what makes us the best is our confidence in our longlasting carports, which we express through a 35 year warranty and FREE Installation and Delivery.
Here are a few other reasons to go with EZCarports.com:
Each certified carport comes with a 35 year warranty
We offer free delivery and installation
Guaranteed high quality with low prices
Have any doubts? Consult our testimonials, and check out our prices. If you have any questions or want to construct your own steel carport, garage, or any other metal structure, check out our FAQ page at Ezcarports.com, or give us a call at 877-204-8816 .
Check out our Carport Image Gallery to learn about our 3 different roof options available for metal carports in Smithfield, NC.