Metal Carports in Spartanburg, SC
Customize and purchase steel metal carports in Spartanburg, SC online!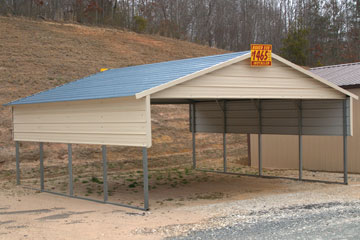 EZCarports.com is home to the best metal carports in Spartanburg, SC to store and protect your belongings from cars and boats, to RVs and tents, to golf clubs and decorations. All of your belongings deserve to be protected from the elements, and that is what our structures will do!
Spartanburg is the adventurous and historic setting of South Carolina. It's easy to find yourself outside of the house enjoying the Cottonwood trail, or taking a trip to the Magnolia Street Train Depot to get some fresh produce. When it comes to the summer hail storms or the 3 month drought like in 2009, your things at home aren't always safe outside. At EZCarports, we provide structures that will protect your belongings no matter what weather comes our way.
Why should you buy from EZCarports? All of our steel structures are manufactured to last for a lifetime with a factory 35 year warranty. As great service and quality structures have been our main focus in the past 35 years, we will provide the same treatment to your family.
Our carports are investments for years to come
Each steel structure comes with a 35 year factory warranty guaranteed to last
Delivery and Assembly time consistently 50% less than competitors
We aim to make your EZCarports experience easy and satisfying, and our simple online configurator will allow you the options to build a structure that fits your needs best.
While you are out taking in the southern comfort of this historic town, your things at home will be protected under our weather-proof carports! Build and price online today or reach one us Toll Free at 877-204-8816 .
Make sure to consult our convenient FAQ page online for quick answers to any questions that you do have.
Check out our Carport Image Gallery to learn about our 3 different roof options on metal carports in Spartanburg, SC.